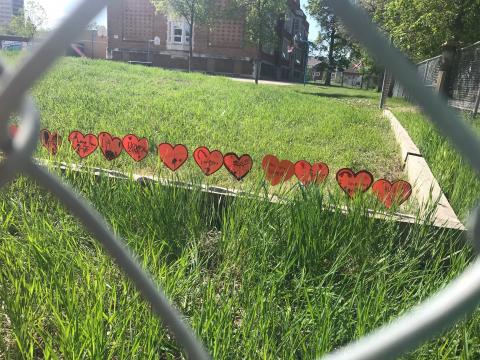 The discovery of unmarked graves containing the remains of 215 Indigenous children in Kamloops was heartbreaking and unsettling for many staff members at Thomson Community School. A team of staff members came together to plan how to honour the children and survivors.

During the week of May 31st all classrooms had a teddy bear outside their door, this helped to initiate conversation with students about the findings in Kamloops as well as intergenerational trauma that resulted from these institutions. 
As the discussions continued through the week, all students were asked to personalize an orange cut out heart by writing a message to the children. Two hundred and fifteen of these hearts were created and placed outside to build a "Heart Garden". In addition to a display of sincere messages, the 215 hearts representing each child was a startling visual for our community.  When all hearts were placed, Elder Sharon Agecoutay smudged with students and led each class in a moment of silence outside the Heart Garden. She spoke to the classes of her personal experience and the resilience of Indigenous people.
Every Child Matters - tahto awasis asitakimaw